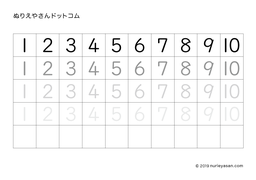 If you know from 1 to 10 as a math practice, it is the start time of the abacus.
The abacus seems to be best started around the age of 5.
If you start the abacus from a small age, an abacus ball will appear in your head. Mental arithmetic seems to play the ball in your head.
If you start with a certain size, you may be more conscious of calculating in your head than calculating with an abacus, and you may not understand the benefits of using an abacus. . However, there seems to be some people who start as adults, so if you are motivated, you won't be "slow at the age of ○". Consider the time when you want to start learning, taking into account the interests of each child and the level of understanding of the numbers. "